PP Spunmelt (SMS, SMMS, SSMMS, SMMMS)
SMS technology (spunbond / meltblown / spunbond)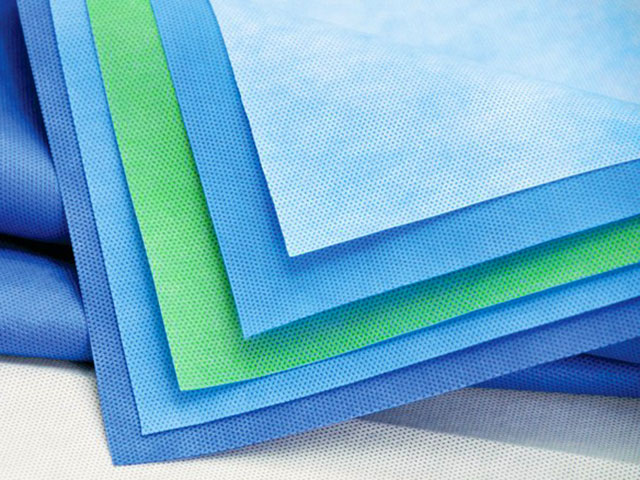 The combination of the fabric of spunbond type and meltblown type gives fabric of the SMS type (its structure comprises of two spunbond layers between which there is a meltblow layer, or of the SSMMS type (its structure comprises of three spunbond layers interlaid with two meltblown layers).
Spunbond polypropylene is a material that has great durability and strength, no matter if it's wet or dry. It's very resistant to fraying and is difficult to unravel, plus it barely absorbs any moisture if it becomes wet.
Meltblown, on the other hand, is softer and more pliable than spun bond polypropylene. Their main advantage is their web strength, which is why they're usually combined with other nonwoven fibers. While spun bond polypropylene has its advantages, it can feel stiff and uncomfortable when it's put in everyday applications such as coveralls.
Since meltblown has a webbed structure and is softer, when you combine these two nonwoven fibers, it provides the wearer with water resistance while still retaining comfort. It's also breathable, so even if you're covered from head to toe (as with coveralls), your comfort won't be compromised.
SMS nonwoven laminates combine the strength and durability of spunbond with the barrier properties of meltblown microfibers.
The resulting composite fabric has excellent physical properties (strength, elasticity, abrasion, secondary tearing, tear strength etc.) and excellent barrier qualities preventing leakage of very fine particles and micro-organisms and aggressive liquid.
This is a high coverage nonwoven fabric. Its low weight, high longitudinal and transversal strength and soft feel make it suitable for use in the medical and hygiene industry. It can be given special treatments to give it certain properties (hydrophilic, anti-bacterial, oil-repellent, alcohol-repellent and blood-repellent).
Spunbond and meltblown also can be combined in SMMS (spunbond, meltblown, meltblown and spunbond) and also SSMMS (spunbond, spunbond, meltblown, meltblown and spunbond) and even SMMMS, incorporating 3 layers of meltblown can also be produced.
Key Properties
Liquid & particulate barrier
Blood barrier, alcohol repellant, anti-static
Breathability
Cloth-like / drapable
Abrasion resistance / low lint
Wet strength
Hydrophobic or wettable
SMS special treatments
With suitable treatments during the SMS manufacturing process, different product types can be obtained for specific applications. Chemical additives can improve the properties of the SMS; it can be become antistatic, flame retardant, water or alcohol repellent.
HYDROPHILIC

SMS is normally hydrophobic, but hydrophilic treatment will enable liquids to pass through.

ANTIBACTERIAL

Fibres with antibacterial treatment protect the material from bacteria and fungi.

ANTI-MITE

Fibres with an anti-mite treatment that protects the material from dust mites.

ANTI-STATIC

Treatment helps neutralize static electric charges in the fabric.

ALCOHOL AND BLOOD REPELLENT

Treatment against alcohol and blood helps repel these substances so the product can be used in the medical and health sector.

OIL-REPELLENT

The oil repellent treatment helps repel oil and can be used for applications where this is required.

HYDROSTATIC PRESSURE RESISTANCE
Applications for SMS Material
Because of how well SMS material repels water, it's used in a number of industries where people need to block off fluids or other wet substances.
Filtration

– this is a huge market for SMS and includes surgical face masks, gas and liquid filtration as well as cartridge filters.

Insulation

– SMS has wide ranging insulation uses including for example acoustic insulation in dishwashers.

Medical Healthcare

– as SMS can be treated with additional repellents to withstand for example alcohol, oil and blood, this makes it an excellent fabric for the medical industry. Typical uses being surgical drapes, gowns, sterilisation wraps, disposable patient sheets,

Sanitary products

- female sanitary products, nappies and incontinence products.

Advertising and digital printing

.

Industrial uses

- car covers, cleanroom coveralls, cleanroom apparel: mask, coveralls, gowns, shoe and boot covers, hoods, sleeves.